Sweden has been voted the most sustainable country in the world. To understand why, you should go on a sustainable agriculture study tour of the Aquaponic Greenhouse at Ödevata Countryside Hotel. Learn about aquaponics farming in the heart of Småland.
Malin and Magnus Axelsson, the owners, developed their new aquaponic greenhouse as a part of their goal of becoming climate neutral.
Sustainability is the guiding principle for everything that is done at Ödevata Countryside Hotel. More and more visitors go to learn more about sustainability in the field of tourism, farming and biochar production. Every year they arrange Biochar Valborg to celebrate the arrival of the spring with an eco-friendly bonfire. Malin and Magnus want to be an active part of the green transition in Sweden.
You can visit the remote greenhouse all year round. It is 18 degrees Celsius indoors even when it is snowing outside!
The first Tilapia fish harvest
In early March 2020, they invited friends, partners and aquaponic enthusiasts to celebrate the first harvest of the full-grown Tilapia fish.
The guests spent a week-end learning more about their projects and they were served smoked and grilled Tilapia fish. Guests from every corner of Sweden went to learn more about how to start and develop an aquaponic greenhouse.
It was such a successful event that Malin and Magnus decided to give the study tour more often. They are also planning to make the next harvest event available to more guests!
A tour of Ödevata's sustainability projects and aquaponic system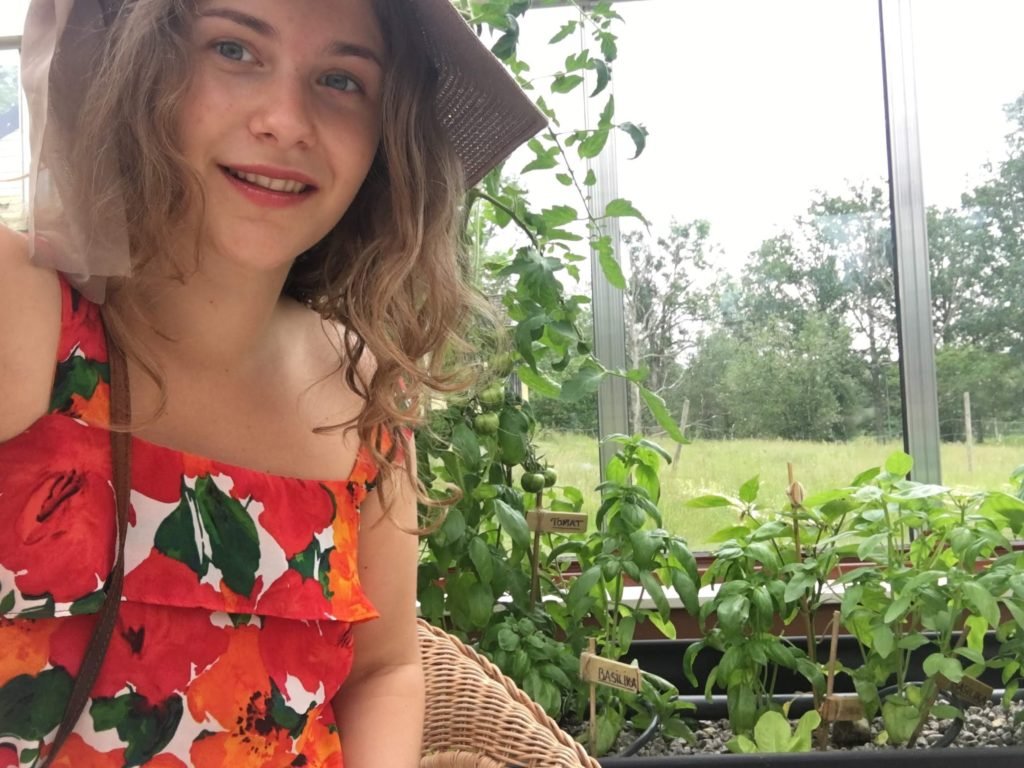 The aquaponic system is an effective and sustainable way to grow vegetables and to have fish production in tanks below at the same time. In the various cultivation beds, Malin keeps tomatoes, cucumbers and even tropical fruits.
"We grow bananas, cucumbers, coffee beans, passion fruit, papaya, lettuce, tomatoes and farming take place all year round." says Malin. "We are convinced that this is a sustainable way of producing food and running a countryside resort."
Malin and Magnus were very hands-on. During the tour, Magnus proudly showed off the wood chip boiler heating system he built and installed. Not only is it highly efficient in providing heating for the greenhouse, but it also produces large amounts of biochar which is used as the soil conditioner.
"The heating of the greenhouse is free, while at the same time we get income from the biochar that we sell. In addition, we use it as a soil enhancer." Magnus explains. "This allows us to not only focus on just environmental, but also economic sustainability."
Ongoing effort to become an education hub

Their goal is to educate the guests during their holiday, and become an informal development cluster for everyone who is passionate about sustainability.
Malin emphasizes that they are happy to receive more study tours. However, they also offer online virtual study tour for those who cannot be there in person in 2020. They want to show their ideas and sustainability work to the whole world to encourage more people to join them.
Outside on the courtyard Magnus showed a machine that is similar to a small scale up and down coal mill. It is another machine that burns rice to produce more biochar.
Nevertheless, the main attraction at Ödevata is definitely the aquaponics farm system. Curious guests can book a guided study tour or just enjoy the wonderful indoor farm.
"We also developed a biochar grill with and will be testing it in the spring." Malin concluded.
The Ödevata lake side resort and activities
The farm is beautifully located between two lakes surrounded by red-colored houses. Today it is a countryside resort with a hotel, cabins and motorhome pitches. Guests can enjoy fresh tomatoes and other vegetables from the aquaponics farm for breakfast.
It is perfect for kids wanting to see and experience farm life, such as collecting eggs from the hen house or feeding the pigs with the left-overs from the kitchen.
They also offer both exciting and calm activities for the whole family, including lake fishing, canoeing, a wood burning sauna and forest hiking. There is also the possibility to celebrate a typical Swedish Midsummer with smoked Tilapia fish.
If you want to try a smoked Tilapia, you can order at Go Nature Market . It is a new collaboration, a "showroom" for rural products and experiences within the network Go Nature Trip.
Malin and Magnus also have plans to invest more in their outdoor cooking experience. It is one of the most popular thing to do in Sweden.
Networking and showcasing the Swedish countryside
"We want to showcase the fantastic Swedish countryside." says Malin. "We work closely with other companies interested in looking to develop sustainable Swedish countryside tourism."
"In our network, Go Nature Trip, we have a total, accumulated, experience of at least 40 years in the business." Malin continued. "Our aim is to reach new markets and test new ideas. We also have a campsite on the farm and, among other things, we work with motorhome rental companies to develop sustainable lakeside motorhome pitches. Daylight Husbilscenter and Skanditrip Premium Motorhome Rental have been supporting us since the beginning."
"We believe that there is a large group, especially international visitors, is interested in visiting us in a motorhome. They not only want to park overnight next to the lakes, but also experience Swedish traditions. For example, learn our take on sustainability and enjoy outdoor activities."

Like what you are reading? Contact Mike Li for more information.
Hälsingland a landscape full of folk tales, stories, rich cultural and natural heritage Are you looking for a special treat?…